Meet the family behind the giant letters and numbers: Jon, Crystal and Asher.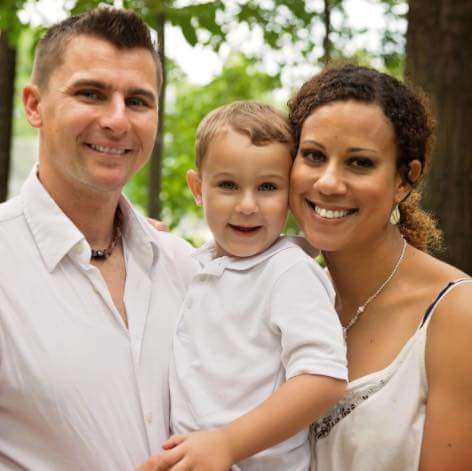 My life changed on September 17, 2012. My son Asher was born. I'm a driven and competitive individual (former athlete and high school volleyball coach) and I'm a certified teacher with a master's degree. But once I met Asher, I was done working full-time outside my home. Income-wise we took a huge hit, but the decision to stay home was the right one for our family.
I started searching for ways to help out financially because my husband is also a teacher, and we were on a pay freeze FOR EIGHT YEARS! AAAAH!
But it's true that sometimes it's through adversity that we have our biggest breakthroughs, and this rough patch turned into an amazing opportunity: to open my own business selling the one thing I had ever made for my players: photo collages on wooden letters.
I started out selling on Etsy and soon had a request for wooden numbers - and I realized that I couldn't find the numbers I needed in any store - so my step-father in law Tom started making them for me. In 2015, we purchased a CNC router and now Tom still sands all of the numbers by hand but our machine does most of the heavy lifting. And my husband!
I'm really proud of our jersey number collages. We were the first shop to do them. Now we have the capability of making them in color! Need a custom poster? Now we can do that as well!
We make every wooden letter and number in our shop. You can't get The Collage and Wood Shop's numbers anywhere else. Now we've even expanded into craft parties and would love to create a package for you to have your own custom paint party where you live!
We can make numbers stand. We can make them 12 inches, we can make them 60 inches. It's hard to appreciate their beauty from photographs, but they are smoothly sanded and easily painted. Thanks Tom!!!
Thank YOU for visiting our shop and reading our story. In 2017 we changed our name from Match Point Gifts to The Collage and Wood Shop, to better reflect what we do. I can't wait to be a part of your celebration (and Tom can't wait until I ask him to create something else we've never seen before!)
The Collage and Wood Shop
(formerly Match Point Gifts)
Design@collageandwood.com