Graduation party food: one of my new favorite topics!
But that's mainly because I have an insatiable sweet tooth!
How about you? 
Are you more of the salty and savory kind? Or are you #teamsweets?
Graduation party food is always a great topic to discover food for events ideas!
I love all kinds of graduation party foods, but I especially love the sweet stuff.
I'm always looking for new graduation party recipes that are both delicious and easy to make.
This year, I'm planning on making a graduation cake that is both tasty and beautiful.
I'm also thinking about making some graduation cookies.
I'll probably make some savory dishes as well, but the sweets are my favorite part.
I can't wait to try out all of these ideas!
One thing for sure: absolutely fabulous events have a strong dessert game!
It's time to get share even more custom ideas for graduation party treats!
As I was searching through the drool-worthy inspiration images on Pinterest, I wanted to round up my favorites here.
This year, we are having our own graduation party - our nephew Austin is graduating from college.
It's so hard to believe - it seems like yesterday we were celebrating his high school graduation!
As I was looking through the graduation inspiration images on Pinterest, I found some drool-worthy graduation treats that I wanted to share with you all!
Here are some of my favorites:

1. Graduation Donut Displays - These graduation donut displays are adorably decorated and would make a great addition to any graduation party! They would also be perfect for gifts or as party favors.
2. Graduation Cookies - These graduation cookies are absolutely beautiful and would complete the festivities with custom designs and messages!
3. Graduation Themed Cupcakes and Cupcake Toppers - My sister in law is a master cupcake baker. I can't wait to see her bring these ideas to life!
4. Graduation Cap Cakes - These graduation cap cupcakes are such a creative and fun way to celebrate graduation! They would be perfect for any graduation party or event!
Scroll down to see all of the ideas!

Our Favorite Donut Displays for Graduation Parties
It's graduation season, which means it's time to celebrate the graduates in your life!
And what better way to show your graduate how proud you are of their accomplishment than with a graduation party complete with a beautiful donut display?
Not only are donuts a delicious treat, but they also make for a fabulous decoration. You can spell out your graduate's name, decorate with their school colors, or even use graduation-themed cookie cutters.
No matter how you choose to decorate them, graduation donuts are sure to be a hit with everyone at the party!
At first glance, donut displays may seem like a purely aesthetic choice.
However, these displays can actually serve a number of important functions.
First, they can help to create a focal point for the party. By centering the donuts on a table or in a display case, you can ensure that guests will have something to focus on when they enter the room.
Additionally, donut displays can help to create a sense of plenty. When guests see a large quantity of donuts, they will be more likely to feel that they can indulge in their sweet tooth without guilt.
Finally, donut displays can simply make your party more fun and festive.
After all, what's not to love about a room full of delicious donuts?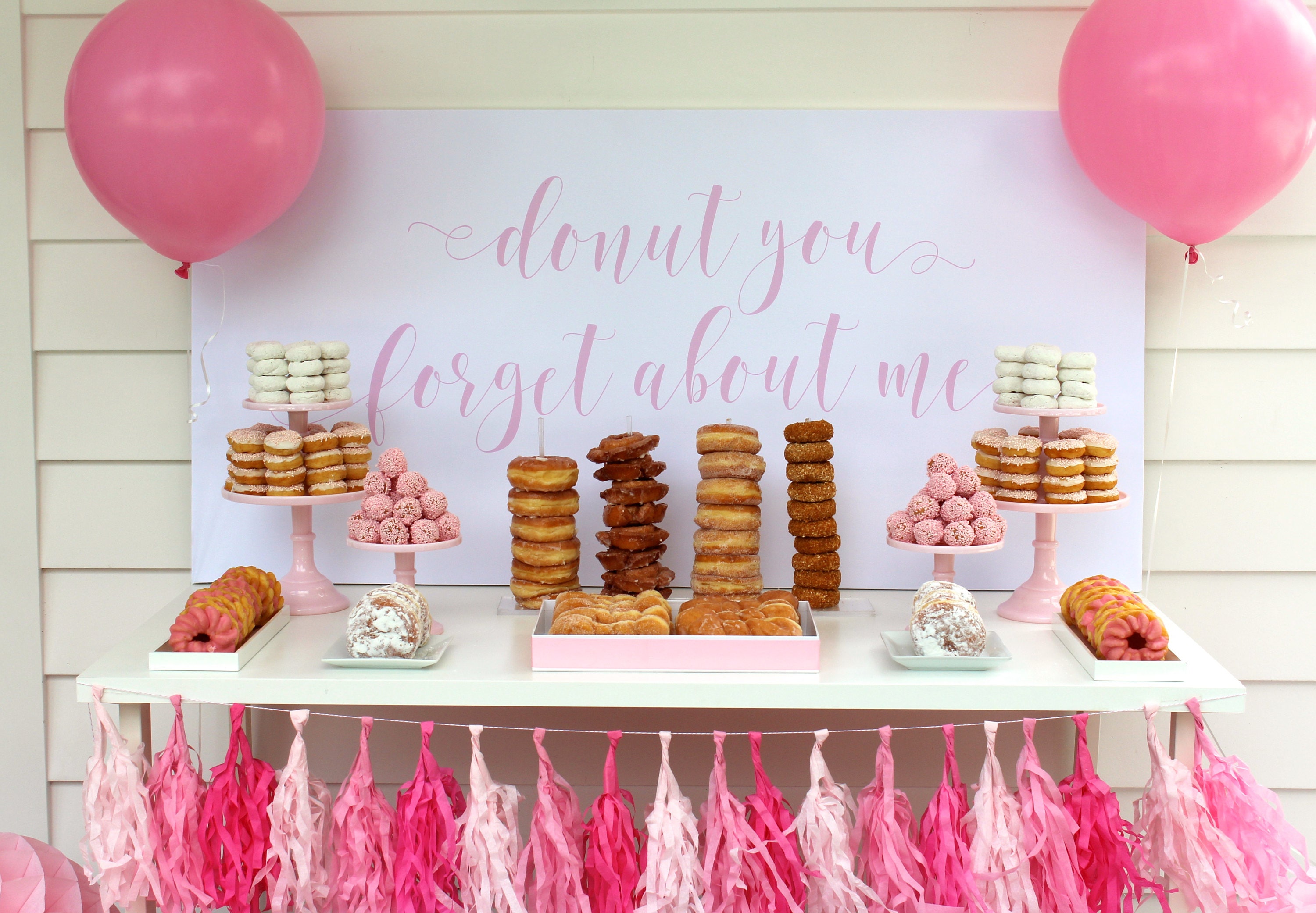 A graduation donut wall is a creative and delicious way to celebrate your graduate's big day!
It's easy to set up and can be customized to fit your graduate's personality.
Plus, it's a surefire way to please all of your guests - from the donut lovers to the health conscious eaters.
To set up your graduation donut wall, start by selecting a variety of donuts that will appeal to your guests.
Be sure to include some traditional favorites like glazed and chocolate, as well as some unique flavors like green tea or mocha.
Then, arrange the donuts on a platter or tray in an eye-catching display.
Finally, add some graduation-themed decorations like streamers or balloons to really make your donut wall pop!
You can always exercise later!
Whether you're hosting a graduation party or simply want to show your graduate how proud you are of their accomplishments, a donut display is a great way to do it!
There are so many creative ways to decorate graduation donuts, from using edible graduation tassels to creating a "class of 2022" sign out of icing.
And of course, no graduation donut display would be complete without a few Congrats Grad! written in icing.
So whether you're looking for graduation donut ideas for your own party or for someone else's, be sure to consider some of the great ideas!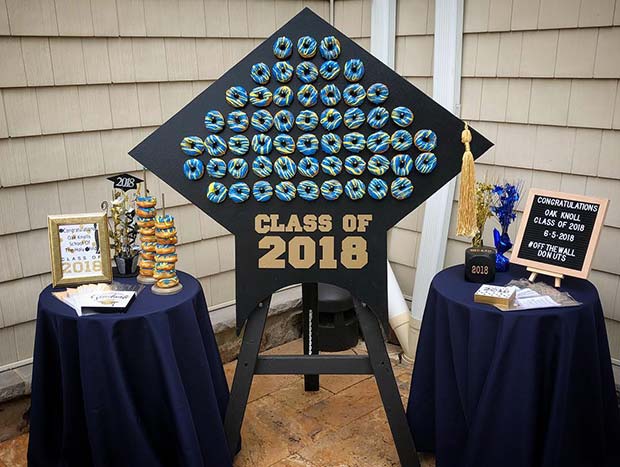 Our Favorite Cookie Display for Graduation Ideas:
A graduation party with a special cookie display is a memorable event.
Here are some graduation cookie ideas to make your event extra sweet!
For traditional graduation cookies, go for classic round or oval shapes in graduation colors like green and gold.
You could also get creative with school mascots or graduation-themed cut-outs. If you want to get really creative, try making graduation cap cookies!
These can be made by using a graduation cap-shaped cookie cutter, or by simply forming the dough into a graduation cap shape.
Then, decorate them with graduation tassels made from candy or frosting.
Whatever designs you choose, make sure to include plenty of graduation congratulatory messages!
(Source: 3 Sweet Girls Cakery)
(Source: Mint Event Design)
At graduation parties, it's not just the graduate who deserves attention - the guests should feel special too!
One way to make your graduation party stand out is with a spectacular cookie display.
Here are a few ideas to get you started:

For a fun and festive look, try arranging the cookies in the shape of a graduation cap. Top the "cap" with a star cookie or two, and use icing to pipe on a graduation message.
Or, for a more elegant display, arrange the cookies on tiered stands, like a wedding cake.
A simple garland of graduation-themed cookies is another idea that's sure to impress.
Whatever approach you take, be sure to use graduation-themed cookie cutters to give your display that extra "wow" factor!
More favorite Cupcake Displays for graduation (Don't forget the cupcake toppers!):
For an elegant cupcake display at a graduation party, try using a cupcake stand.
You can find these stands at most kitchen stores, or you can order them online.
Simply arrange your cupcakes on the stand, and you'll have a beautiful and impressive display that will wow your guests.
If you want to get really creative, you can also decorate the stand itself.
For example, you could wrap it in ribbon or garland, or you could even add some grad-themed accents like graduation caps or diplomas.
Whatever you do, make sure your cupcake stand is the star of the show! (Well, next to your graduate, of course!!)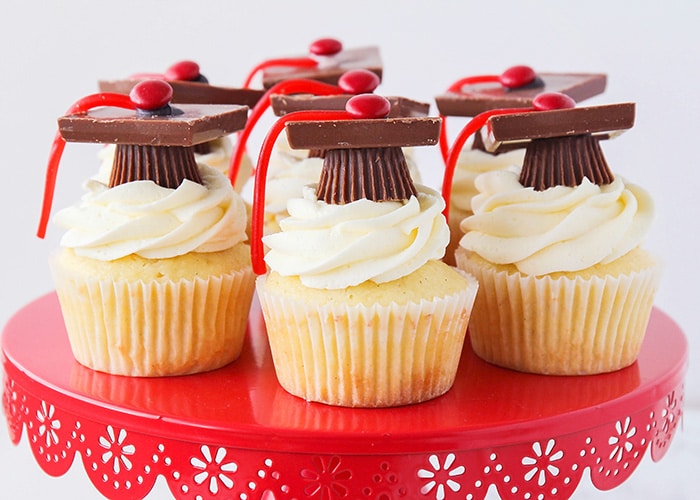 Cupcake Stands in Graduation Year.
A custom cupcake stand is a great way to show off your graduate's favorite sweets.
Decorate the stand with the graduate's school colors, and fill it with their favorite flavor of cupcakes.
Make sure to include a few extra for guests to take home.
For a special touch, top the cupcakes with miniature graduation caps. Your graduate will be sure to appreciate this delicious display!
We have made these since 2017. Looking forward to making even more in 2022 and beyond!
Last but not least, cake displays that will have everyone talking for weeks:
When it comes to graduation cakes, the sky is the limit!
There are so many amazing graduation cake ideas out there, and it can be tough to decide which one is right for your party.
If you want something classic and elegant, consider a graduation cake with tiers of white fondant and graduation cap toppers.
If you're looking for something a little more fun and festive, go for a graduation cake adorned with colorful candy or graduation-themed decorations.
Whatever style you choose, make sure your graduation cake is delicious and sure to impress your guests!
Which tasty treat will find its way to your graduation desserts display?