Whether you're a beginner or an experienced player, having the proper equipment can help you perform your best.
In this article, we'll provide tips on how to choose the right volleyball shoes and other equipment needed for volleyball and volleyball accessories for your needs.
Let's get you ready for your season opener or preseason workouts!
PERSONAL VOLLEYBALL EQUIPMENT MUST-HAVES
When it comes to volleyball, the actual gear necessities are few.
Most players can carry what they need in a volleyball bag or duffle bag - with the exception of a volleyball net! 
But if you are preparing for indoor tryouts or packing for a day away at tournaments, here's a list of volleyball equipment that actually helps (and grab them before opening weekend!):
Sports Bra

Elbow pads or padded sleeves

Knee Pads

Spandex

Volleyball shorts

Ankle braces

Volleyball socks

Volleyball Shoes

Sand volleyball gear

How to battle chafing

 
THE BEST SPORTS BRAS FOR VOLLEYBALL
Supportive bras are an essential piece of gear for any woman who plays volleyball.
Mom Recommended: Nike Swoosh Sports Bra.
They provide support and protection for the breasts, minimizing bouncing and impact.
There are a variety of bras made for activity on the market, so it's important to choose one that fits well and provides the level of support you need.
In general, the best bras for volleyball have wide straps and a band that fits snugly around the rib cage, support the breasts and are moisture wicking.
When trying on a sports bra, be sure to test them out by jumping and moving around to see how they hold up.
If it doesn't provide stability, the bra is a definite no. Look for one that has the padding sewn in.
With a little bit of research, you can find the perfect sports bra to help you perform your best on the court.
Here are some of our best pics, based on research from current volleyball moms:
Puma sports bra (Costco).

Shefit (Amazon)

Glamorise Women's Double-Layer Custom Control Sport Bra (Amazon)

Lulemon: Free To Be Bra, Energy Bra

Panache wireless sports bra 👉🏽

Best for Large Breasts: Calia by Carrie Underwood, Champion (my favorite high-impact sports bra!), and Shefit
Victoria's Secret Knockout Mesh Sports Bra
If any of these options don't work out, you can always go old school (like I did in the 2000s) and double-up your bras.
More laundry, yes. Maximum support? Definitely!
ELBOW PADS OR PADDED SLEEVES
Tandem makes elbow pads for volleyball players (pictured above.) A definite "nice to have" for back row players!
Here's an sports insider tip: consider wearing sleeves created for football players!
According to one mom, her daughter likes the Hi-rui sleeves available on Amazon because they are sleek enough to fit under long-sleeve jerseys. (These are easy on the wallet, too!)
When it comes to elbow pads or arm sleeves, there are a few things to consider.
What position does your daughter play?
Is she playing primarily on the front row, back row, or both?
Will she be diving on the floor a lot? Will elbow pads impact her ability to hit or set?
When it comes to the fit of padded sleeves, they should be snug but not too tight, and they should stay in place while you're moving.
Here are more top picks from volleyball moms:
Tandem brand (do not get in the way of setting)

Mizuno elbow sleeves

McDavid hexpad arm sleeves (made for basketball) 👉🏽
Bodyprox elbow protection pads (low-price)
RECOMMENDED KNEE PADS FOR VOLLEYBALL PLAYERS
Indoor players rely on their knee pads to protect them from the hard floor when they dive for a ball.
While there are many different knee pad options on the market, not all of them are created equal.
For players who dive a lot, it is essential to find knee pads that offer both comfort and protection.
Most current players prefer thinner knee padding. As long as the protective gear allows lateral movement and has enough extra padding to reduce bruising and floor burns, they will work!
Here's the volleyball moms' top advice for kneepads:
Mizuno SL2

Adidas Elite

Nike Essentials / Nike Streak (may not be best for heavy users!)

Under Armour  (comes in different colors!)
Bonus tip: Do not leave knee pads in a backpack - they will STINK! Wash often!
TOP PICKS FOR SPANDEX SHORTS
Volleyball shorts are an important part of the game.
Using inside language for the sport, they are typically referred to as spandex.
However, volleyball shorts can also be a source of frustration for players. The wrong pair of shorts can cause chafing, and public embarrassment.
Volleyball spandex come in a variety of colors, styles, and in-seams. There are many different brands that manufacture them.
Some of the top picks for volleyball spandex brands include Nike, Adidas, and Under Armour.
These brands offer high-quality volleyball spandex that are designed to provide a comfortable, snug fit.
They also offer a wide range of colors, styles and lengths to choose from, making it easy to find the perfect pair of volleyball spandex for your needs.
Volleyball mom top recommendations:
Teleleo 5-pack, 3 inch from Amazon (about $5+ each, what a STEAL!)

Longer spandex (knee-length) and leggings are becoming popular.

UA HeatGear Shorty Shorts 

Adidas makes a longer spandex (4" and 5") which is better for thicker bottoms and thighs.
VOLLEYBALL SHORTS WHEN YOU CAN'T WEAR SPANDEX
When I coached high school volleyball, our team had a "travel" outfit: a team t-shirt and black running shorts.
I felt it was important for them to have something besides spandex to wear on and off of the bus.
Additionally, many Christian schools do not allow their players to wear spandex during volleyball games or practices.
Many debates have been had about "proper volleyball attire" on and off the court.
Here are volleyball mom top suggestions for volleyball shorts that are not spandex:
BMJL running shorts (spandex layer underneath, running shorts on top)

All Volleyball

Hits-Camp.EU (they ship worldwide!)

Champion Sports
VOLLEYBALL GEAR TO PREVENT ANKLE INJURIES
Volleyball ankle injuries are one of the most common injuries in the game of volleyball.
They are most commonly caused by rolling or twisting of the ankle.
This can occur when landing from a jump, during a sudden change in direction, or when coming into contact with another player.
A lot of front row players, like a middle hitter, will move a lot across the net, which puts them at risk of injury from jumping and landing on someone else's foot.
Wearing the proper gear can help to prevent ankle strains or sprains in volleyball. Some girls prefer an ankle brace that blends in with their socks (therefore less noticeable).
An ankle brace can provide support and stability to the ankle joint, helping to protect against rolling or twisting.
In addition, wearing shoes with good ankle support can help to absorb impact and reduce the risk of injury.
By taking precautions and wearing the proper gear, players can help to prevent ankle injuries while playing volleyball.
Moms pick their top ankle braces for the volleyball court:
Ultra Ankle Zoom

Med Spec Zoom Ankle Stabilizer

Active Ankle braces
Most moms agree that an ankle brace is not necessary for outdoor volleyball, aka beach volleyball.
BEST VOLLEYBALL SOCKS FOR DIFFERENT COURTS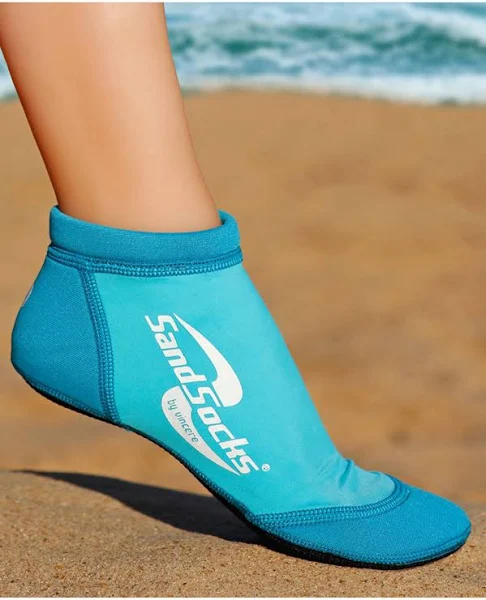 Beach volleyball players often wear a special type of socks called sand socks.
Wearing crew socks is the best choice for indoor players who wear ankle braces. Crew socks come up to mid calf.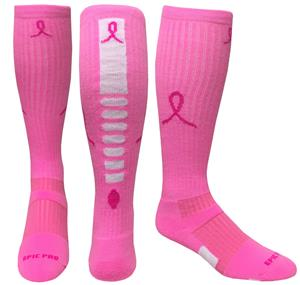 The other options are ankle socks and long (to the knee) socks.
Occasionally the team will want to purchase trendy socks for special events like Dig Pink.
TOP VOLLEYBALL SHOES FOR THE INDOOR VOLLEYBALL GAME
Volleyball is a sport that requires a lot of swift movement side to side, as well as jumping and landing multiple times during volleyball games.
Therefore, it is important to have a volleyball shoe that provides good lateral support, as well as cushioning to absorb the impact of jumping and landing.
There are a few different brands that make volleyball shoes specifically designed for the sport.
Asics, Mizuno, Under Armour and Nike all make popular volleyball shoes. Some players are now preferring to wear basketball shoes for high-ankle support.
Check our article on the top volleyball shoes for more information!
Top picks by volleyball moms:
Kyrie 8s ($150+)

Under Armour Women's Highlight Ace 2.0 ($90+)

Adidas Crazyflight Mid ($95+)
PLAYING VOLLEYBALL MATCHES OUTSIDE
When playing volleyball on the beach, there are certain items you will need in order to stay cool and comfortable.
First, make sure you have a couple of cooling towels. Microfiber towels are great for wiping sand off between matches.
Secondly, you will need a pair of sunglasses and some sand socks for the volleyball match.
Sunscreen and something to provide shade, like a beach tent or an umbrella, are also essential.
Bringing your own outdoor volleyball is important for warming up with your partner.
Many tournaments may provide outdoor volleyballs for you to practice and play with, but it's good to be prepared with your own volleyball.
You will also need a portable charger, as you may need to do scoring on your phone when you ref.
Bring a towel or blanket to sit in when you are referring. Lastly, snacks like fruit or small Hawaiian roll sandwiches will also come in handy.
With these items, you'll be sure to have a fun and enjoyable experience.
Just remember, there's a lot of different rules when it comes to indoor vs. beach. Everyone gets to be a front row setter but the technique is much different! #deepdish
What can you do for chafing under spandex?
Chafing is a common issue for people who wear spandex shorts while playing volleyball.
The fabric can rub against the skin, causing irritation and even pain.
There are a few things you can do to prevent chafing under your spandex shorts.
Make sure that your shorts fit properly and change out of them after each game or practice. You can also apply a chafing cream or gel to the areas that are prone to chafing.
This will create a barrier between the fabric and the skin.
Top Product recommendation from Moms?
Monistat Care

Boudreaux butt paste

Body Glide

Chub Rub
Additionally, take breaks from wearing your spandex shorts throughout the tournament.
This will give your skin a chance to recover from any irritation.
BONUS TIPS FROM VOLLEYBALL MOMS
Always have extra deodorant in their volleyball bag.

Knee pads should be washed weekly and shoes should be washed at least once a month. Disinfect those knee pads, shoes & bag after every practice & tournament day by spraying Lysol in them & letting it all air-dry overnight.

Besides having a first aid kit, pain relief & feminine products in your bag at all times, double up on the spandex shorts during that time of the month.

Team Volleyball Bag=LIFESAVER, or so I'm told! Extra medium spandex, extra volleyball socks, extra set of knee pads, pain relief including Midol, feminine products, first aid with neosporin, bandaids, blister circles, crack ice pack, biofreeze, 1 heat patch, ace bandage, ponytail holders, Tums, GasX, mints (for after the puking if the tums doesn't work), extra shoelaces, tweezers, safety pins, nail clippers, we used a plastic soap bar travel case for jewelry, lotion, deck of cards, tide pen, ink pen, marker, and deodorant!

Team parents all kicked in $8-10 at the beginning of the year and team parent bought the stuff and carried it in a backpack with a TEAM ribbon on it so we could locate it quickly.

PONYTAIL HOLDERS! Keeps your hair out of the volleyball net.
FREQUENTLY ASKED QUESTIONS ABOUT VOLLEYBALL EQUIPMENT
What shoes do pro volleyball players wear?
Many professional volleyball athletes wear Mizuno or Asics shoes, as they provide good support and allow for quick movements.
Some players may also prefer to wear Nike or Adidas shoes.
In terms of specific models, many players wear the Mizuno Wave Hurricane 2 or the Asics Gel Rocket 7.
Volleyball is a high-impact sport, so it's important to choose a shoe that provides good cushioning and support.
Are high tops good for volleyball?
There is no definitive answer to this question as every volleyball player has different preferences when it comes to shoes.
However, many pro players tend to wear high-top shoes because they offer greater support. The official shoe brand for the women's USA Volleyball team is Mizuno.
Read more about the best volleyball shoes in this article.
Is Mizuno a volleyball brand?
Yes, Mizuno is definitely a volleyball brand!
In fact, they're one of the most popular brands out there when it comes to this sport.
They make high-quality products that are designed specifically for volleyball, and they have a great reputation among athletes.
If you're looking for a new volleyball brand to explore, Mizuno is definitely worth checking out!
Can you wear Adidas for volleyball?
Of course you can wear Adidas for volleyball!
The Adidas brand is actually quite popular among volleyball players AND they are the current sponsor of the USA National teams.
Many players feel that the company's products are both stylish and comfortable, which is obviously important when you're spending hours on the court.
Additionally, Adidas provides a wide range of volleyball shoes to choose from, so you can find the perfect one to suit your playing style.
Whether you're just starting out or have been playing for years, there's an Adidas volleyball shoe that's right for you.
So go ahead and rock those three stripes - your game will thank you for it!
What do you think of our list? Please drop your questions or comments below!